How It

Works
Bali SEO will improve your Search Engine presence
Although Google displays organic search results, it is not a purely organic search engine. Google is a multi-billion-dollar company. You can pay Google to place your website at the top of their search results. If you scroll down the page, past the company profit section of a search results page, you will find the organic search results. These are the search results that have not paid Google. These are the websites that have achieved a ranking based on their relevance to the search term. Their quality, content and purpose has been rewarded with a high ranking position. These are the organic search results. Let's build your website into a relevant resource that Google will find on our targeted set of keywords.
Helping you

Increase

your Website Traffic
The service includes consultation, keyword research, article writing, creating incoming links, building your search engine presence and finally, reporting on optimization results.
Better SEO will create More Visitors
Improve your Organic Search Engine Ranking with Bali SEO Services.
Responsive for

Mobile Devices
User friendly and search engine friendly across all mobile devices
Responsive Design
All Mobile Devices
Make sure that your mobile site contains the same content as your desktop site.
Intuitive Navigation
Clear And Simple
Googlebot-Mobile will check that the mobile version of your website is user friendly.
Readable Text
Space And Size
Easy to read at first glance. No need to pinch or gesture on the screen to enlarge the text.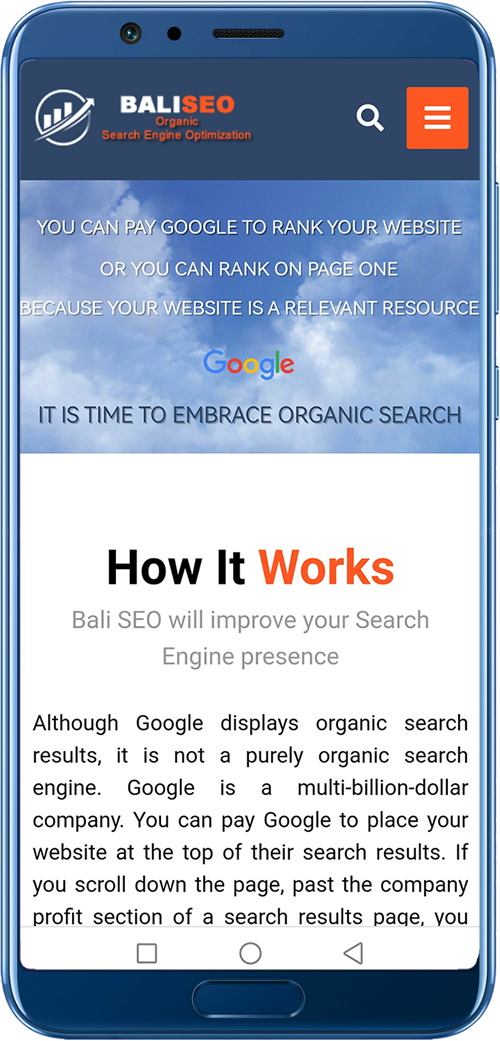 Simple Forms
Easy To Fill Out
Small number of input boxes on your contact forms. Make sure they display large enough.
Call To Action
Use Phone Functions
Large buttons allow the user to contact you immediately via phone call or chat service.
Maps And Directions
Use Location Services
Use Google Maps to tell your customers where you are and how to get there.
Our

Mission
Delivering 30 years of website and search engine experience
Our mission is to rank your website on page one for all our targeted keywords. Under a 12 month contract this is very possible. I guarantee that your website traffic will increase.
Whilst our primary focus will be the Google Search Engine, the results will transfer across all search engines.  You will not achieve this with Google Pay Per Click. There are other search engines besides Google and many people use these. They are listed below.
The results we gain will be ongoing, even if you want to cancel the contract after 12 months. We achieve long-term results. Conversely, when you cancel Google PPC, your ranking will disappear.  Pay Per Click is useful for an immediate push to page one; short-term unless an ongoing expense is incurred.
Websites That 

Work!
Let us help you deliver your website to a new range of customers
ORGANIC SEO
A Customized Strategy
Our mission is to rank your website on page one for all our targeted keywords. We guarantee that your website traffic will increase.
WEBSITE REDESIGN
Foundations Of SEO
Our mission is to rebuild all your website elements into a modern, user-friendly layout that is responsive when viewed on all devices.
Your website will

Rank Higher
The benefits of search engine optimization
67% of people prefer to click on organic results. From research conducted by "Zero Limit Web" People trust the search engine algorithms. They know that the advertisers are paying for their top positions, and they prefer to visit the websites that the search engine has determined to be most relevant.

PEOPLE TRUST ORGANIC RESULTS
Search Engines reward a website with a high ranking because the page is typically considered to be good quality and trustworthy. This will boost the credibility of your business. Your search engine presence becomes more credible because we develop this using both onsite and offsite techniques.

BOOST YOUR ONLINE CREDIBILITY
Your competitors are probably investing in SEO, which means you should too. Those who invest heavily in SEO often outrank the competition in search engine results and gain market share. The results on the first page of a Google search receive over 90% of the traffic. Establish your marketing edge.

GET A COMPETITIVE ADVANTAGE
Many marketing campaigns tend to focus on a defined target audience. SEO can help you attract anyone who is interested at a given point in time, no matter what stage of the purchasing process they are at. Target keywords rather than demographics (PPC) and attract more prospective customers.

REACH MORE PEOPLE
Local searches such as "spa near me" are becoming more common. Almost 80% of local searches on mobile devices lead to conversions. Local SEO strategies can help you attract these searchers who are often ready to buy. A Google My Business account is a priority for personalized reviews.

RANK BETTER IN LOCAL SEARCHES
User experience is a critical component of SEO and a significant Google ranking factor. Search Engine Journal explains, "Google has learned how to interpret a favorable or unfavorable user experience, and a positive user experience has become a pivotal element to a website's success."

OPTIMIZE YOUR USER EXPERIENCE
An optimized site brings in quality traffic. A site with useful content that matches the searcher's intent will probably mean that they spend more time on your website. This can lead to more conversions. Customers who engage longer will trust your business and this can lead to long-term revenue.

IMPROVE USER ENGAGEMENT RATES
We can track changes in rankings, conversions, and website traffic. Google Analytics provides a comprehensive suite of information. For example, you can see every website user's journey; the pages they engaged with, the keywords they used, and if they completed specific actions.

GET QUANTIFIABLE RESULTS